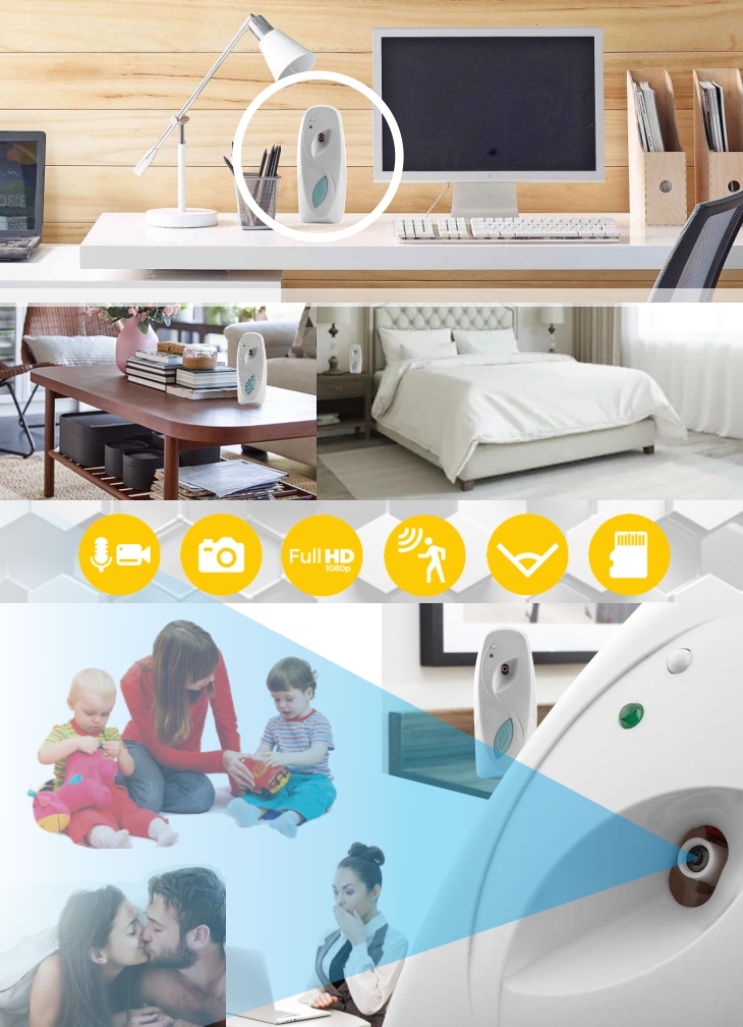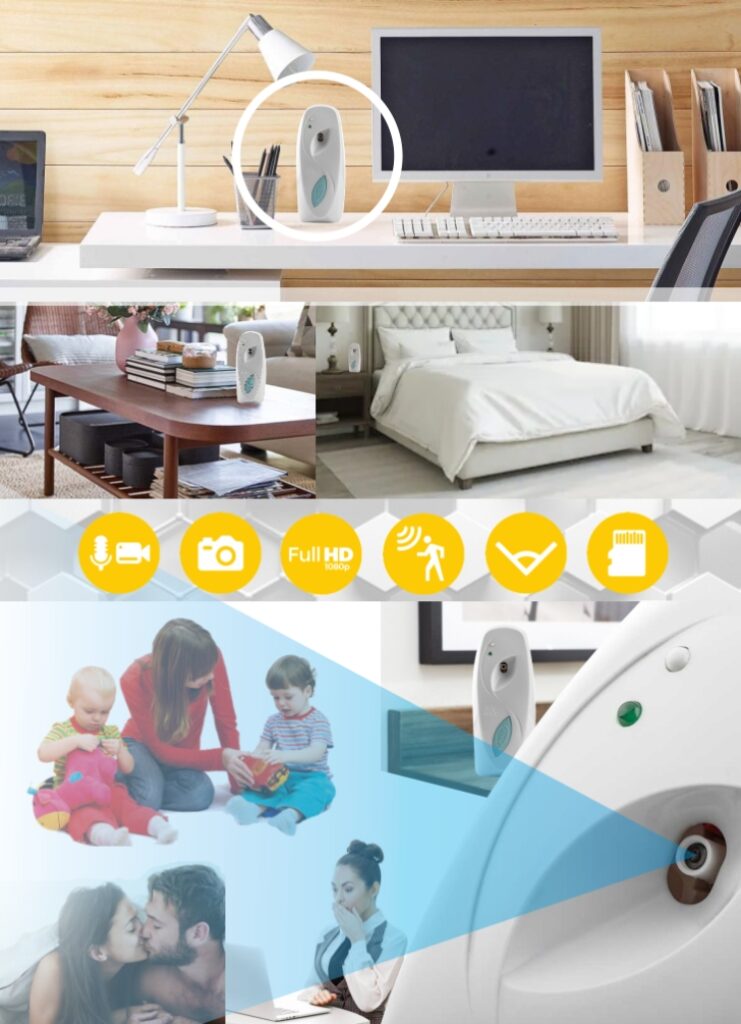 A spy micro-camera placed in a freshener is a highly demanded and popular spy mobile tool for discreet photography and eavesdropping. If you need to record events urgently and discreetly, and you do not have time for long and often complicated installations of modern spy cameras, this handy portable spy camera in the air freshener is the right choice for you.
The chances of unraveling you are equal to zero, and you can place it anywhere in your home, office, business premises, bedroom or living room, bathroom … A large area in the air freshener box leaves room to fit into a larger, reinforced rechargeable lithium battery, which will provide the spy micro camera with 2-3 times longer autonomy. This means you do not have to be afraid that it will stop recording when needed.
The micro spy camera in the air freshener provides photographing options as well as discrete audio/video recording, and it is turned on by motion detection. It delivers a high-quality high HD definition color recording, which is stored on your own camera memory. By simply connecting the USB cable that you get in the kit, this latest generation of spy microphones is very easy to connect to each computer and laptop. Recorded material is easily and quickly transferred to any device, so you can easily view and rewind it on your computer.
How to use the air freshener spy camera and its features
In any air freshener, a micro spy camera is simply adjusted, and the ordinary, everyday part of the interior becomes the perfect portable spy device for secret recording and eavesdropping.
The micro camera in the air freshener is activated on motion detection, which detects movement up to 5m distance. The angle of the shooting of the camera is wide, 120 degrees (fish eye). When it detects movement in the room, the camera starts to take pictures (resolutions 1600 x 1200 Px). The camera in the air freshener has a built-in microphone, so it can make Full HD audio-video recordings if you set this option. With the remote control that forms part of the kit, you can easily activate the micro-camera and operate it even further.
The recorded material is stored on a memory card with a capacity of up to 32 GB. An enhanced rechargeable lithium battery boosts the camera's autonomous operation 2 to 3 times, i.e. a week time, which in practice means 7 days of recording in motion activation mode.
With the USB cable you get in the basic kit with a micro-camera, this spy tool connects to your computer or laptop and it is also charged this way. The battery charge time is about 4 hours. Recorded captions and photos from a spy camera can simply be transferred to any other device because it supports all current operating systems.
For what purpose can a micro-camera in the air freshener be used?
The air freshener is located mostly in homes, offices, toilets. Perhaps you as well use it to fill your space with your favorite aromas and pleasant scents. However, we are almost certain that a few would think that a simple air freshener can be easily converted into a powerful spyware secret recorder. It is enough to place a micro-camera of the latest generation in it. That's why it is the perfect portable spy device when you need to record something or listen to it urgently. It is especially practical for domestic use, but also for business premises.

If you doubt the partner's loyalty, the fidelity and productivity of business associates and employees, if you are interested in how a babysitter takes care of your child, or with whom your children are hanging out with while you are at work – this is a reliable way to resolve all the doubts and to find out the truth. Discover who enters your living room or bedroom when you are not there, what is being done and said in your business premises, shop, office or even the toilet of your company. See what a business meeting you did not attend was like. The possibilities of using this camera are practically unlimited.

At the moment, we have multiple models of air freshener with micro-camera, so you can easily fit it into any interior. If you think it would be too suspicious to replace the refresher you have used for a long time, we have a solution. Bring us your air freshener and we'll install a spy micro-camera in it. You will get a reliable and super-secret device for discreet recording of the room.

With our instructions, this spy camera can be used efficiently by everyone. Call us or come to our store and our expert team will help you to choose an adequate spy device and give you tips on how to mask, install and utilize all of its features. And all this is done with a lot of respect for the privacy of each of our clients.

Published:

Author: Spy Tech Team

Spy Tech
Related products