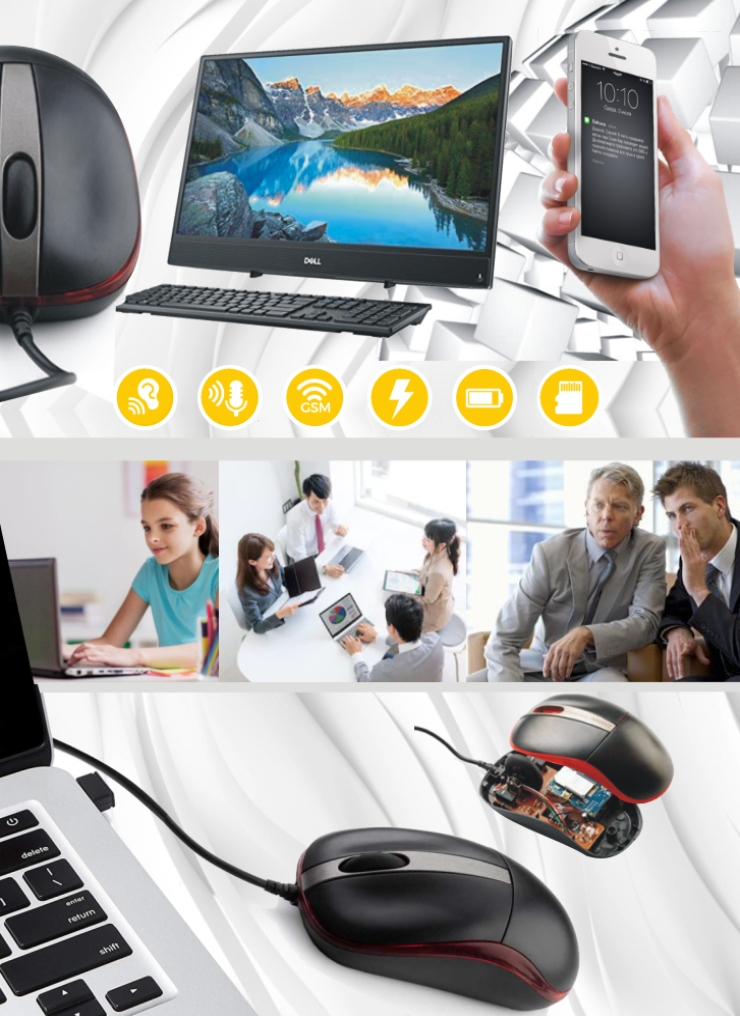 An eavesdropper inside an optical mouse is a spy device that allows real-time eavesdropping of anything that is happening in the room in which it is located. It has an unlimited range, and with the exceptionally sensitive and enhanced microphone, it can clearly record the whisper of the conversation. It looks like any other computer mouse and therefore there is no possibility of discovering its true purpose.
Namely, the mouse eavesdropper functions as an ordinary computer mouse. All the common operations on a computer or a laptop can be performed with it. There is a slot for the GSM card inside of it, and all that is needed for it to work is coverage of a mobile telephony network.
Activation of the eavesdropper is simple and is done in two ways, by calling the SIM card number in the mouse from a fixed or mobile phone regardless of the distance of the user or by sending an SMS. After the second call, which is completely silent, the device is also activated completely silently and allows live listening to everything that is happening in the area being monitored.
The eavesdropper can be activated and deactivated by sending an SMS message to the card number. In that case, you need to send an SMS with specific content. The device will activate as soon as it registers a voice (voice activation) and it will call the previously assigned number i.e. the number to which it is connected.
How to use the eavesdropper in a mouse and its features?
To put this GSM eavesdropper into operation, you need to open the mouse in order to place the card of the selected mobile operator. The card is placed in the slot very easily as with any other mobile phone. It is taken out the same way. When this is done, put the mouse back together and the device is ready for use.
All you have to do next is to activate the eavesdropper in one of two possible ways, either by calling or by sending an SMS. It is important that you keep the card number for yourself, in order to avoid any misconduct. Anyhow, the device has a coded GSM frequency so that there is no possibility of interfering in the connection.
The essential features of the eavesdropper in a computer mouse are the enhanced performance microphone and the filter to eliminate shrinkage, murmurs, and noise, which means that all the conversations in the room that is monitored by this spyware can be heard clearly. The device can operate non-stop since it is powered by a computer and in case of a power failure, it does not stop working because it has a rechargeable Apple battery that can work up to 14 days in Stand By mode.
In which situations can an eavesdropper in an optical mouse be used?
A computer mouse is an expert for audio control of offices and other office space and can be used for eavesdropping in the apartment, as well as for control and supervision of children and spouse.

The exceptional application the mouse eavesdropper has is for controlling and monitoring the work of employees. Using it you can listen to everything the employees do and tell in offices, sales facilities, warehouses. In this way, you can get important information regarding the loyalty and conscientiousness of the work of the employees in your company.

As far as the children are concerned, this listening device is extremely practical as children spend most of their time on computers playing games online or surfing on social networks. So, you can find out who your kids are talking to, what they do and how they behave.

A mouse eavesdropper can also be used to detect adultery and other harmful actions. Thanks to its high range, it is possible to listen to conversations throughout the apartment. Also, it can be moved if needed and does not have to be connected to a computer or laptop since it has a rechargeable battery and thus does not need powering in specific situations.

Call us and order this perfect eavesdropping device and we will explain to you in detail how to use it and how it works.

Published:

Author: Spy Tech Team

Spy Tech
Related products