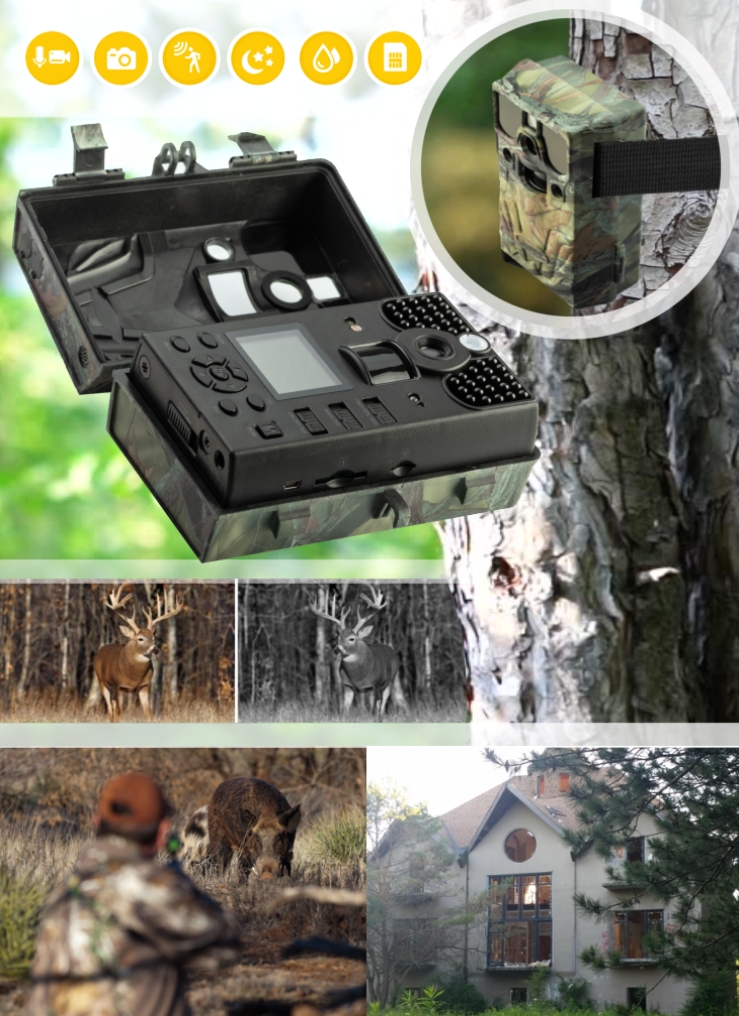 Digital infrared camera for hunting is an ideal spy camera for shooting and spying outdoors. It is colour-coded and easily camouflaged in a natural environment, and it is named Hunting camera since it is most often used in hunting.
This spy camera is completely waterproof so you can use it unlimitedly in all weather conditions, both in the day and in night conditions.
The hunting camera is a multi-purpose spy device that allows you to make individual photos and record high-quality audio videos. It can be activated on motion (motion detection), and instead of automatic activation of photographing or recording, you can select the option for the cyclic photographing at certain time intervals. Finally, it can always serve as a regular webcam.
Motion and heat sensors, IR LEDs, flash drives, SD and TF card slots, WiFi SD card, digital zoom up to 4x, alarm system and speaker that can either chase off or attract animals makes it an ideal ally in hunting but also in spying and eavesdropping.
The Wi-Fi SD card allows wireless connection to any device that has a Wi-Fi card, such as a mobile phone, a tablet or a laptop. This means that using a mobile phone we can practically operate this spy camera from a distance of up to 50 m. Also, this means that we can see on the mobile phone everything the hunting camera sees but from a safe distance.
The recorded material contains all the important information such as date and time of recording, temperature, air pressure, and even lunar phases and GPS coordinates can also be entered.
How to use a hunting camera and its features
A multi-purpose waterproof masked camera for hunting provides the ability to capture audio/video recording in open space, in all weather conditions. Photos and videos are high definition colour HD.
Invisible infrared LEDs allow this camera to work smoothly throughout the day and at night under reduced visibility conditions. The hunting camera is equipped with sensors for movement and heat, so it can be activated automatically as soon as it detects activity up to 25 m distance. You can also select the option of periodic activation and recording at certain time intervals.
Digital zoom 4x allows zooming and enlarging of the object being observed, and the shooting angle is wide, 120 degrees (fish eye). And that's not all that this perfect spy camera can offer.
It is equipped with a slot for a WI-FI card that you can easily connect to any device that contains a Wi-Fi card. In this way, from a safe distance, on a mobile phone, laptop or tablet display, you can observe everything the camera records, and manage all the functions of the hunting camera. If you choose ideal observing conditions, the range of Wi-Fi routers can go up to 50 m, while on average it is 20-30 m.
Up to 64 GB of the recorded material can be stored on the camera's internal memory. You can protect access to the options and recorded camera material with a security code.
The hunting camera is powered using rechargeable batteries, and there is also an option of adding a solar panel. The high battery autonomy gives you the freedom of leaving the camera recording in one place for months.
For what purposes can a spy hunting camera be used?
As the name implies, this spy camera can be of the greatest help to the hunters and facilitate their waiting and locating prey. Instead of sitting in one place for hours, the Wi-Fi card allows them to observe the terrain and spot the game in a real-time on their mobile phones from a more comfortable and safer place.

The hunting camera also has a loudspeaker that can be used to lure or chase off wildlife.

With the help of a hunting camera, hunters can easily get gold-worthy information about the behaviour of animals, such as the time and place they gather, which will save them a lot of time. For the same purposes, the hunting camera can be used by animal lovers and researchers of the animal world and by the people who take care about hunting grounds, preventing the illegal hunt and the poachers' attack. Camera recordings will provide them with the information on the number of animals, possible illnesses and the need for food.

All the performances of this camera will make your camping and nature trip a memory-worth experience.

The hunting camera can also be a perfect spy device for protecting property. Since it can work for months on its own and activate only when there is a real need for it, this spy camera is a great choice if you want to protect your apartment, store, garage, cottage, field, orchard or vineyard. The camouflage colour will make the camera invisible and discreetly blended into the environment, and the waterproof material from which it is made allows you to place it anywhere in the open space with no fear.

Published:

Author: Spy Tech Team

Spy Tech
Related products