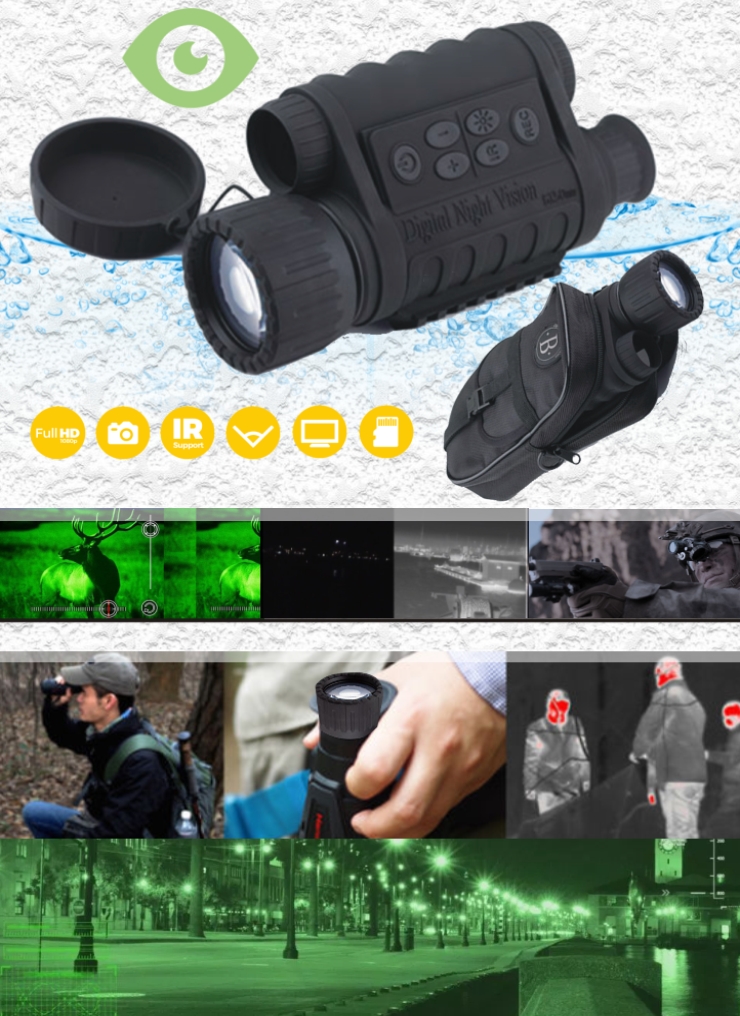 Night Vision is an active spy camera that provides the ability to record and monitor in complete darkness. With the help of this spy camera, you can observe and record discretely while staying completely invisible to your surroundings.
Like all the other active cameras, the Night Vision Spy Camera operates by emitting very strong infrared light, receiving and processing an already existing or IC light and recording in the dark. In addition to audio and video recordings, this night spy camera can shoot individual high-resolution photos (up to 2592 x 1944 P).
The distance of observation of this night camera in full darkness is up to 350 m. Night Vision spy camera for shooting in the dark not only provides the ability to observe and record in the dark, but it also has powerful optical lenses that magnify and thus bring closer the observed space.
The viewing angle is wide because of the possibility of adjusting the eyepiece dioptres.
Recorded audio/videos and photos are stored on a Micro SD card, which can be up to 32 GB. You can then view the material on your phone or computer after transferring it using the USB cable that you receive inside the same package.
A spy camera for night shooting is made of high-quality materials and is resistant to moisture and hits. You can freely use it at temperatures from -30 to + 45 degrees.
How to use a spy camera for night shooting and its features?
Night Vision night camera for spying, observing and recording in the dark works by emitting high-intensity infrared rays (850 NM) using an infrared illuminator and by collecting and processing already existing IC light from the environment. That's why this powerful spy camera allows you to watch, take pictures, and make audio/video recordings in full darkness. The distance of observation in total darkness is as much as 350 m, and in the environment, with low illumination, it goes from 2 m to infinity.
Optical and digital zoom magnifies the observed space and thus bring it closer to the observer. Eyepiece dioptres can be adjusted according to needs, and viewing angle is extremely wide.
Spy night vision camera has options of making high-resolution photos as well as of recording Full HD audio material.
The camera has a micro SD card slot with a capacity of up to 32 GB, on which material is stored. The Night Camera supports all the OSs that are currently most used.
A night spy camera can be powered by high-quality rechargeable batteries, through a power charger or through a solar panel. The battery life is up to 20 hours with IR illuminator on and up to 60 hours if it is turned off.
For what purposes can you use the Night Vision Spy Camera?
A spy camera for night vision and shooting is easy to use and you can use it in any situation when it is necessary to observe or record in low visibility conditions or in complete darkness.

By providing you with the ability to shoot in a dark environment, this camera will make you invisible to the environment, therefore being the ideal spyware for secret recording and eavesdropping.

If you are a passionate hunter or a fisherman, this night camera will become your closest ally in night hunting or fishing. It is indispensable for camping in nature, for sailing, rafting, and hiking, for speleological adventures and for exploring inaccessible and dark areas. With the help of this spy camera, you can enjoy the great scenes that nature can offer you at night. Students and researchers can watch nocturnal animals in a discreet and undistracted manner.

Due to the powerful optical and digital zoom, the Night Vision camera can be extremely useful in rescue missions searching for people and property after natural disasters and in any other condition with limited lighting.

The modern waterproof material makes this spy camera very resistant to external influences, hits, and moisture. You can feel safe using it under extremely high humidity conditions (up to 93%). It is also an excellent choice in any weather condition, as it has a wide range of operating temperatures (from -30 to +45 degrees).

Published:

Author: Spy Tech Team

Spy Tech
Related products