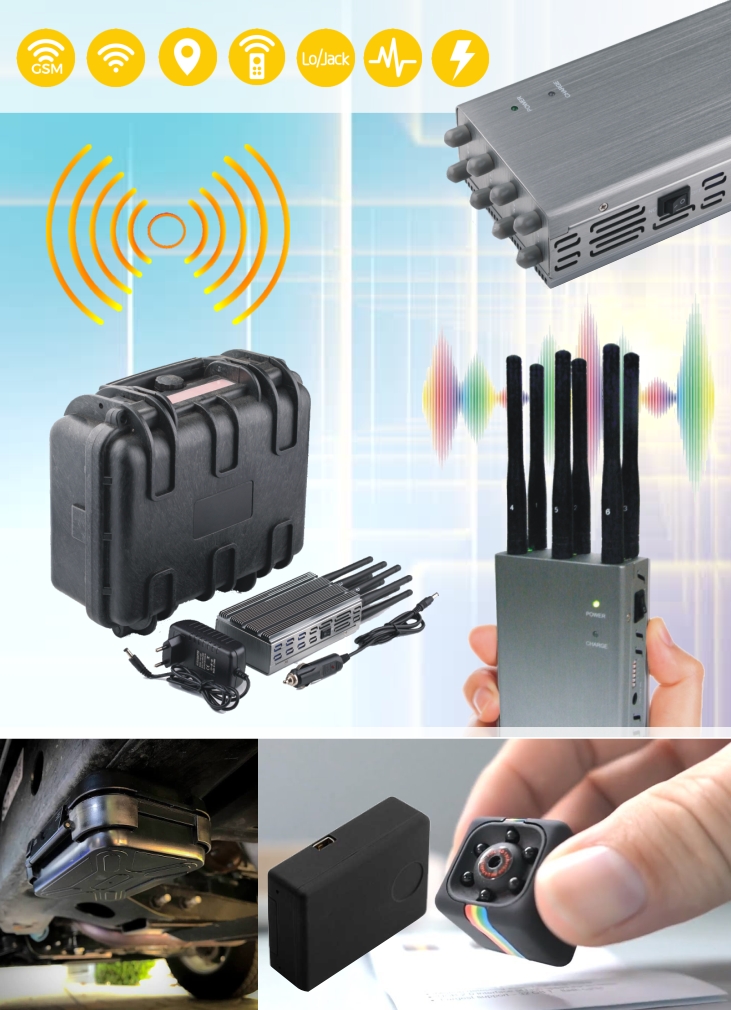 Portable jammer is the most modern multifunctional hand-held eavesdropping device that you can carry around with you. This portable jammer is very easy to use and it reliably prevents the operation of all modern spy bugs – GSM and RF eavesdroppers, GPS trackers – locators, wireless cameras, mobile phones, wireless remote controls and all sorts of eavesdropping of mobile phones.
Portable jammers work based on the interfering or preventing data transmission between spying devices.
The hand signal interferer contains powerful transmitters that emit electromagnetic waves at the frequencies of the receiver of the spy device within a radius of up to 30 m, depending on the configuration of the field and the power of the device. In this way, it blocks both the broadcasting and reception of signals.
Advanced cooling systems provide a constant operating temperature of 45 ° C, which, if maintained, can allow the jammer continuous operation for up to several months with no fear of overheating and malfunction.
The portable jammer has wide application since you can always take it with you and it will protect you from eavesdropping, practically anywhere. It can become the guardian of your privacy and security at home, at work, in the car …
SpyTech offers you the ability to configure the portable jammer yourself. If you need to interfere with a particular frequency or more of them, you can order particularly those frequencies and our expert team will create your personal jammer according to your needs.
How to use a portable jammer and its technical features
The main role of the multi-purpose handbrake signal is, as its name indicates, to interfere with the spyware, and to provide protection against eavesdropping, secret surveillance or recording.
Portable jammers work by interfering with the antennae between data transmission and signals among spyware.
The manual jammer contains several antennas and each module with an antenna can be used as a separate signal jammer. The output power of the portable signal interference of spyware can amount to a total of up to 10 W (1 W power per module). High-quality antennas successfully support the power of each module individually and allow for its maximum utilization, thus achieving a significantly wider radius of interference. This hand signal interferer successfully protects you from eavesdropping and spying in a range of up to 30 m.
The built-in active cooling systems (in the form of quality coolers), as well as the passive cooling system (aluminum ribs used to remove excess heat),  provide a constant operating temperature of 45 ° C, which, if maintained, can allow the jammer constant operation for up to several months without extinguishing.
This portable jamming device successfully interferes:
wireless frequencies of mobile telephony and mobile internet

RF viewfinders as well as unlimited bandwidth preservers working through the GSM network
Wireless Internet and Bluetooth
GPS tracker – locators
GPS navigation in the vehicle and on the mobile phone
Wireless remote controls
Wireless spy cameras and video surveillance cameras
The portable jammer case is made of high-quality aluminum alloy which effectively drains excess heat and thus prevents overheating of the plaster.
An integrated rechargeable battery of 8000 mAh gives it great autonomy.
For what purpose can a handheld jammer be used?
The effects of eavesdropping can be tremendous. Confidential information can be easily misused and can jeopardize your own and the safety of your family but also cause irreparable damage to your business.

Spy bugs jammer is a wise choice and an excellent business move for all company owners, employers, directors, and managers to protect their business and market positions.

It can fully protect your business premises, offices, or halls where you conduct important business talks and prevent "leakage" of confidential information. You can also protect yourself from widespread industrial espionage. Non-governmental organizations can prevent the dissemination of information about new plans and strategies.

A handheld jammer is the perfect companion of journalists and security agencies on demanding tasks.

Teachers and professors can easily use a handheld signal interferer to combat the widespread use of mobile phones at classes and lectures. This will increase students' attention and raise the efficiency of the classes to a higher level. Also, the jammer is an excellent ally in the fight against bugs and hidden cameras for cheating on exams.

Call us or come to our sales premises – with a lot of respect for privacy, we will help you choose the right signal interfering device, and thus protect your privacy and get rid of spyware. In addition to expert instructions, each of our clients receives a piece of friendly advice based on a long practice that will make it easier for him or her to solve the problems and to eliminate suspicions.

Published:

Author: Spy Tech Team

Spy Tech
Related products