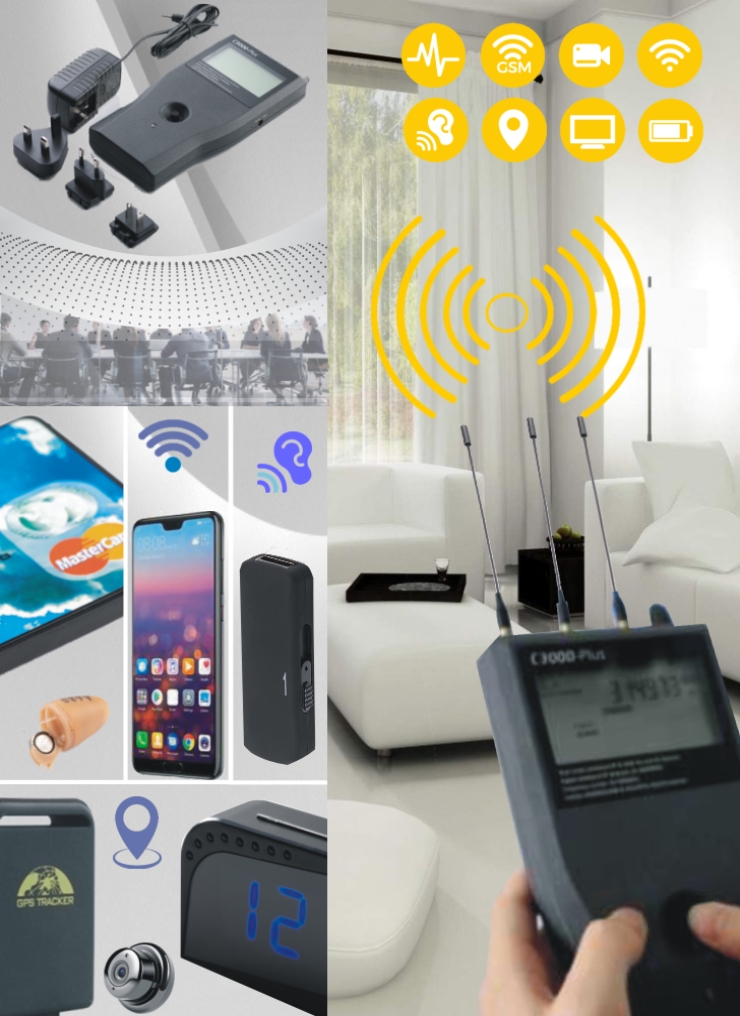 ST3000 Plus is a modern professional handheld device for detecting wireless signals of a wide spectrum. It quickly and infallibly reveals all kinds of digital, switching, or analog signals. This sophisticated detector is very convenient to use, it is small in size so that you can easily carry it around with you and search all the rooms and environments you want.
Professional spy detector ST3000 Plus is one of the most advanced devices for detecting spyware on the market. It is a high-tech product whose technical characteristics and working principles enable precise detection of all types of spyware in the area in which it is used.
Modern eavesdropping and spying devices are small in size and can be hidden in the most inaccessible places. These are most frequently listening bugs, spy micro cams, GPS trackers, and locators that emit a wireless signal. If there is any of this spyware at a certain distance from the detector, it detects them and emits vibrating, light, or acoustic signals.
ST3000 Plus precisely finds eavesdropping and other spyware in your home, office, business space, car, phone …
With this highly sensitive device for the detection of spyware, you can accurately detect:
All types of GSM and RF eavesdroppers
GPS trackers for face and vehicle tracking
wireless and remote controllers
Wi-Fi
Wi-Fi devices for spying
radio
Wireless spy cameras
Wireless microphones and recorders
How to use the ST3000 Plus detector and its features?
The multifunctional ST3000 Plus spy detector works very simply, based on the hot-cold method. When it detects by a spyware device, the detector automatically signals it with sound, light or vibration, and you can adjust the signaling mode yourself.
The closer you are to the spy device, the stronger is the signalization, and when you distance yourself from it, the signal strength decreases. By moving the detector through the room, according to very clear and precise signaling, you can quickly and easily find where the eavesdropping device is located. On the 8-bit LCD screen, the frequency and signal strengths are printed. ST3000 Plus detects all frequencies of 10 MHz – 3 GHz mobile phones. You can use it to detect eavesdropping equipment on all continents because its range of frequencies covers complete mobile telephony (Europe, Asia, and America).
The ST3000 Plus detects the electromagnetic waves of spyware, monitors their strength and enhances the signaling alerts according to where the spyware is hidden. The radius in which the detector operates depends most on the configuration of the ground and is about 10 m. You can adjust the sensitivity of the machine yourself, as well as the warning method.
The ST3000 Plus spy detector has 3 antennas and a quality durable lithium battery that can work for up to 2 hours without interruption. For maintenance purposes, as soon as the battery is emptied, it needs to be recharged and the charging time needs to last for three hours.
ST3000 plus has an exceptional finishing, with a special aluminum alloy housing. You receive it in a special package, in the Pelican case, where it is completely protected against moisture, dust, and vibration.
For what purpose can the ST3000 Plus detector be used?
Modern spyware devices are easily accessible to everyone, they are usually miniature, can be installed imperceivably, can be located anywhere and are difficult to detect by the naked eye. If you suspect that you are a victim of espionage, or that someone has confidential information that can jeopardize your safety or damage your business, it is best to take immediate action and protect your privacy and business.

If you want to effectively protect yourself from spying, the ST3000 Plus detector is the right choice. This professional handheld device accurately detects all wireless, digital and analog wide-spectrum signals.

ST3000 Plus unmistakably detects and discovers all spyware such as mobile phones, GSM and RF eavesdroppers, GPS trackers for tracking faces, vehicles, and moving objects, wireless and remote controls, Wi-Fi devices, radio, wireless spy cameras, wireless microphones, and recorders, that is to say, all devices that emit or receive a signal.

This reliable detector of spyware can be used to protect personal safety, as well as for the protection of residential and business premises, cars, and property in general.

Call us or come to our store and we will help you protect yourself from spying and eavesdropping. In addition to selling original detectors and interferers of spyware, we also provide detection services for cars, businesses, and residential areas.

Published:

Author: Spy Tech Team

Spy Tech
Related products