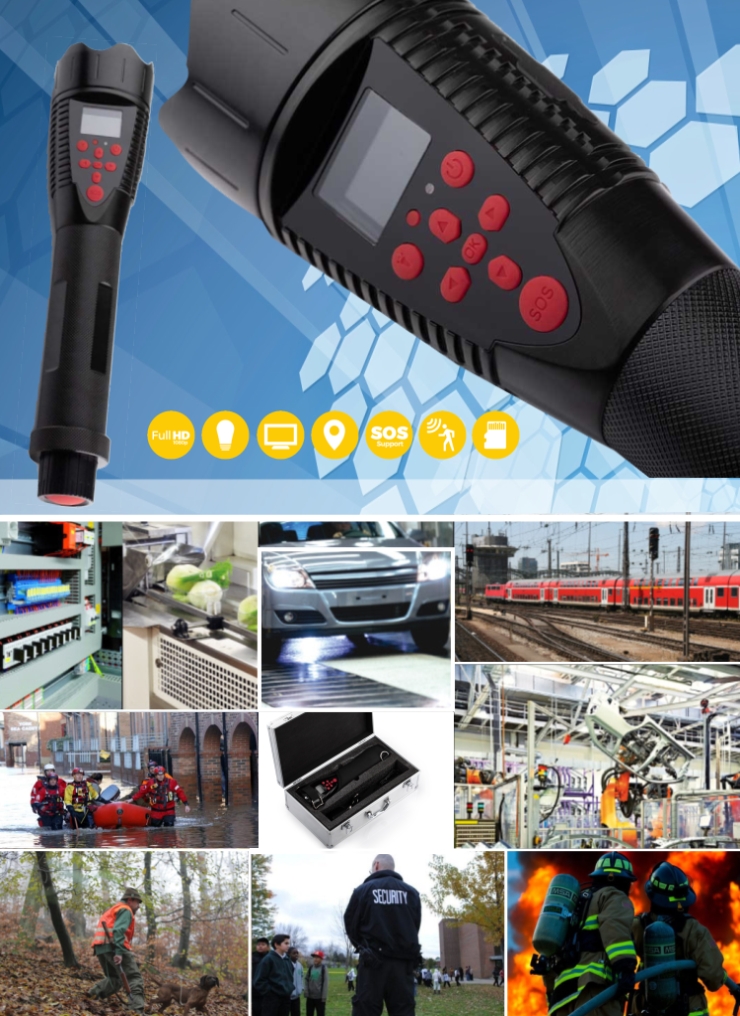 A spy camera in a battery LED lamp is a modern 3 in 1 multi-purpose device for secret recording, GPS tracking and locating people and mobile objects, as well as for ensuring protection and security. LEDs of exceptional strength make it easy to shoot even in the dark and in hard-to-reach places.
Inside a functional flashlight, there is a spy micro-camera, and it can be integrated with GPRS that supports GPS tracking, SOS button, and audible alarm. This makes it the ideal tool for protection in case of danger.
A spy camera in a flashlight can take individual photos or record high-quality HD videos. The material is stored on the external memory – the TF card and the supported capacity is up to 32 GB. The recordings can be viewed directly on a mini-LCD monitor that the camera has, or simply transferred via a USB cable to a computer or a laptop.
A wide viewing angle and a sensitive microphone provide high-quality audio/video recording even from a far distance.
It is easily used and can be applied in a variety of situations when there is a necessity to record something secretly.
The spy camera in a LED lamp is activated by simply pressing a button.
How to use the camera in a LED lamp and its features
The camera in the flashlight is a multifunctional modern technology that can be used for recording, as a tracking locator, and as a personal safety device. The two high-intensity LED lights provide the ability to record high-quality images at night, even in conditions of reduced visibility, as well as in hard-to-reach locations.
Built-in micro-camera and high-sensitivity microphone up to 48 dB provide the ability to take pictures or audio/video recordings. The recordings are in Full HD resolution of 1920 * 1080p, and the recording time can be optionally set to stop after 1 min, after 3 min or after 5 min.
The camera in the LED lamp has a built-in 1.5 "mini-monitor, where everything can be viewed by the camera, and the material is stored on the external memory, a TF card with a capacity of 4-32 GB. In practice, this means several hours of recorded material, which can be transferred via USB to other devices, a computer or a laptop.
It also features a wide angle of shooting and lens focusing ability F = 3.6mm, F / NO = 1.8.
The ability to integrate GPRS supported by GPS converts this flashlight into a precise and efficient tracker for tracking movement and locating people and other moving objects.
In order to use all of the features of the GPS tracker in a flashlight, you need another SIM card, a mobile phone, and a mobile phone signal. By connecting a tracker to a lamp with a mobile phone, all the information about the paths that the GPS locator in the lamp collects it sends to your mobile phone.
The SOS button and the audible alarm make this seemingly ordinary flashlight a reliable device for protecting personal safety if a person happens to be in danger.
The spy camera in a lamp is powered by high-quality rechargeable batteries, which allow it a high autonomy.
For what purpose can the Camera in LED lamps be used?
The camera placed in the LED flashlight has an extremely wide application. Its simple use makes it an irreplaceable device for recording, secret surveillance and personal protection. With detailed instructions, it can be easily used by everyone.

LED's illuminate the space and provide the possibility of quality recording at night and in dark environments. It can also be used as an ordinary flashlight.

The camera in a LED lamp can be used for hunting and fishing, education, construction, industry, traffic. They can be used by security workers, night watchmen, campers.

It is extremely useful in police and fire interventions, as well as in rescue actions. It is also applied at border crossings and in prisons.

Detective agencies and security services can find a great assistant and collaborator in this multifunctional spy device when it comes to gathering evidence about the investigation.

Put it in the pocket of your jacket or your bag and chase off the attacker with the SOS button or the audible alarm and call for help if you happen to find yourself in a dangerous situation. You can also record the aggressor with it, which would be of great help in identifying them.

For all additional information, how to best use all the spy camera's in LED lights performances, it's best to call us or visit our sale offices. With full discretion, we will help you choose the most convenient device to solve your problem, a dilemma, or a doubt.

Published:

Author: Spy Tech Team

Spy Tech
Related products