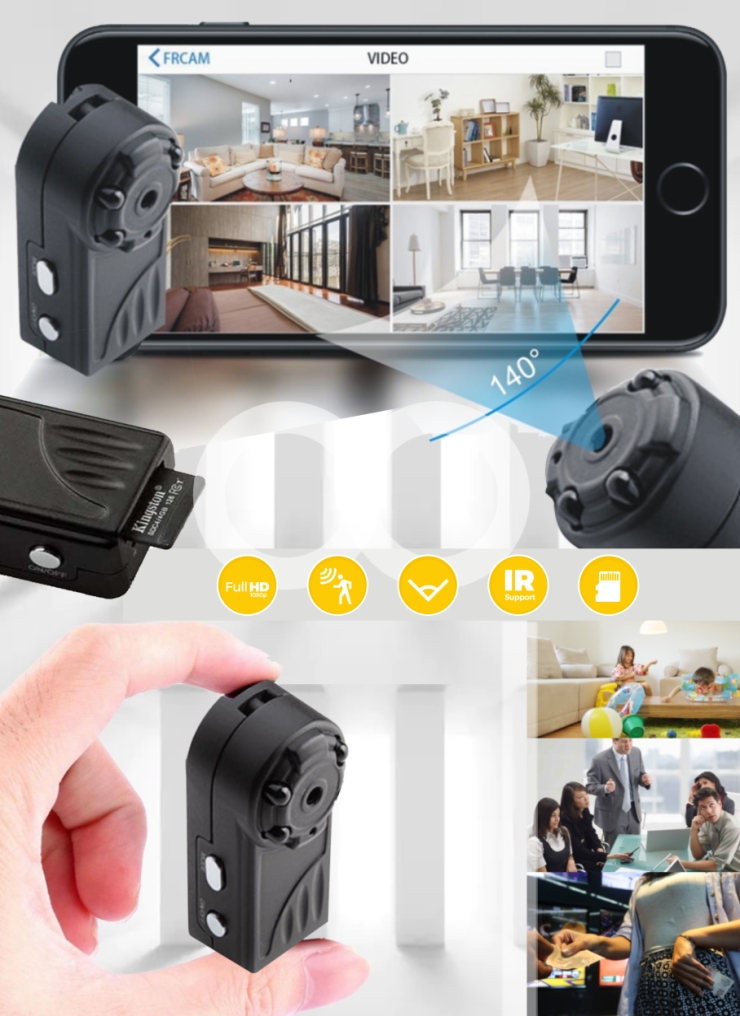 The smallest Full HD night vision micro-camera is by far the most advanced spy camera you can find on the market. Its performance and features are high above other spyware micro-cameras of a modern generation. This smallest spy camera is the best choice if you have the need for discreet recording and eavesdropping.
Miniature dimensions allow you to install it practically anywhere and it will completely unmistakably make individual photos or create high-quality audio/video recordings. And even without the installation and camouflage inside other objects, it remains invisible to the eye of the observer.
Invisible night vision infrared diodes allow you to record even in dark places or under reduced lighting conditions. The smallest spy camera has a built-in automatic night vision sensor and it activates the night mode in low lighting.
Recording can be activated by pressing the camera button or you can select automatic motion detection. Apple's own rechargeable battery gives it great autonomy, and this is the only spy camera on the market that can work smoothly while on the charger.
The camera has a micro SD card slot with a capacity of up to 32 GB, and stores the recordings and photographs that the camera records. The USB cable that you get with the camera can easily be transferred to a laptop or computer because the camera supports all current OS.
How to use the smallest micro-camera and its features
You can use the smallest spy micro-camera in two ways. Its mini dimensions – 3 cm in length and 1.5 cm in width – make it a stand-alone, perfectly discrete spy tool that allows you to record and eavesdrop whenever you need it.
Also, thanks to its size, this spy mini camera is suitable for installation in various items. You can place it practically wherever it is convenient for you, in a pack of cigarettes, a fresher or air conditioner.
Imperceptible night vision IR diode with the smallest spy camera provides the ability to record in full darkness and in semi-illuminated rooms. The automatic night vision sensor is activated individually at low light, so this spy camera itself switches to night mode. You can turn on the mini camera on the activation key or select the motion detection option. A spy micro-camera will be turned on as soon as it detects the movement up to 4 m distance.
The shooting angle is extremely wide, 140 degrees, the so-called fisheye. The video resolution is Full HD – 1920 x 1080P.
In addition to the invisible ID, motion detection activation, this small spy micro-camera has an SMD filter and a noise amplifier that neutralizes background noise, which enhances the quality of the audio/video recording. Everything that the mini-camera records is stored on its own memory, which can be expanded to 32GB.
A high-quality rechargeable battery ensures great autonomy, and you can use this camera as while charging unlike to all the other spy cameras . Mini spy camera made of high-quality steel alloys, is of modern design and very easy to use.
For what purposes can the smallest spy micro-camera be used?
This practical spy camera is easy to carry and use, so it is applicable in any situation when you want to capture or listen to something discreetly. It will not let you down even in the most demanding spy tasks when other spy cameras would not be an effective solution.

Install it in a smoke, lamp, clock or climate sensor and you can take photos or audio videos without anyone noticing it.

It can be an extremely useful spy tool in business, for the secret recording of employees, business associates, workrooms and premises, important meetings and, of course, for monitoring the competition.

The smallest micro-camera is an excellent ally to pupils and students and generally in education. It is an inseparable assistant to detectives and detective agencies as well as to the security providers. It can be used by journalists and also by tourism and judiciary employees.

The smallest spy camera for tracking and recording can also be used in a variety of sports activities, such as rollerblades, bicycle or car ride. Place it on the helmet while driving the motorbike and while skiing or on the mirror of the car to get the perfect Full HD shots.

Also, you can use it for normal chatting, because with Full HD resolution and a built-in amplifier you will have a crystal-clear image with tone.

Call us or visit our sales premises, and we will help you decide if the smallest spy camera is the ideal solution according to your needs, desires, and capabilities. Of course, you will also get detailed instructions on how to use all of its performance in the right way.

Published:

Author: Spy Tech Team

Spy Tech
Related products